Minute Maid Park
Formerly the Ballpark at Union Station, Enron field, and Astros Field, Minute Maid Park is home to the Astros and features seating for over 40,000. Houston's first retractable roofed stadium, Minute Maid Park is designed to negate Houston's humidity when necessary and still provide fans and players alike an outdoor baseball experience.

In contrast to the Astrodome, Minute Maid Park is known for being particularly hitter friendly, and because of its smaller dimensions, it has become known as The Juice Box. After the 2008 season, the park switched from Astroturf to a new sod known as Platinum TE Paspalum becoming the first sports organization in the world to use this new technology.

While primarily a ballpark, Minute Maid Park can and does host football, soccer, and rugby games. Rock concerts have also been hosted at the park, as well as one mass wedding where 40 couples all tied the knot at the same time. Whether you're going for the Astros, a concert, or just to get out of the heat for a few hours, Minute Maid Park is one of Houston's most recognizable and entertaining attractions.


---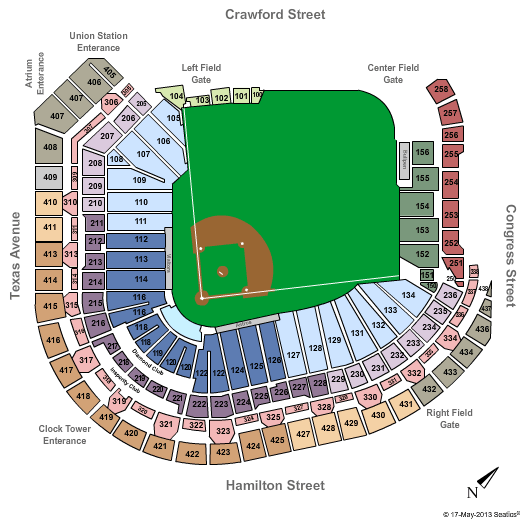 Minute Maid Park Information
Address:
501 Crawford St.
Houston Texas, 77001

Capacity: 40976


Featured Events
| Event | Date | Venue | |
| --- | --- | --- | --- |
| Loading Events | | | |
| Event | Date | Venue | |
Copyright © 2008-2014 TriFectaTickets LLC