Progressive Field
Nestled in downtown Cleveland, Progressive Field is the home of the Cleveland Indians. The ballpark, built in 1994, anchors the Gateway Sports and Entertainment Complex, and it also seats loyal tribe fans in some of the league's most comfortable seats. With wider aisles and larger seats, fans are more comfortable than ever before. Along with wider and more comfortable seating, Progressive Field also sports the largest video screen and one of the first full color display boards in the league.

Unofficially referred to as The Jake, the fields name was changed to Progressive Field just prior to opening day in 2008 and was originally named Jacobs Field after former team owners Richard and David Jacobs. Some of the most loyal fans in the league, Progressive field was completely sold out for 455 games between 1995 and 2001.

Whether you want to see a ballgame in comfort or you're going to support the Indians, Progressive field is one of the highlights of Cleveland and Bubba's Got Tickets on sale today.
---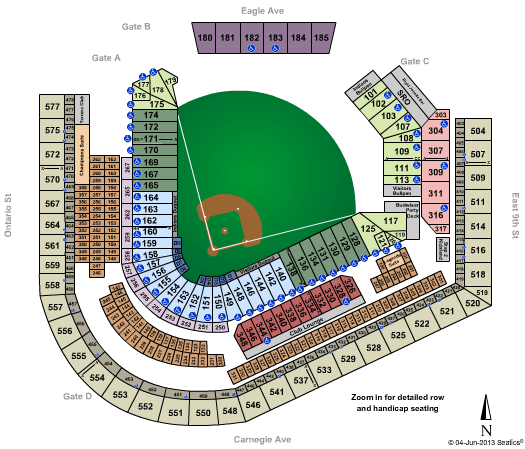 Progressive Field (formerly Jacobs Field) Information
Address:
2401 Ontario Street
Cleveland Ohio, 44115

Capacity: 43415


Featured Events
| Event | Date | Venue | |
| --- | --- | --- | --- |
| Loading Events | | | |
| Event | Date | Venue | |
Copyright © 2008-2014 TriFectaTickets LLC